×
OTP Login
Please enter your registered mobile number below
×
Registration
Subscribe to our newsletter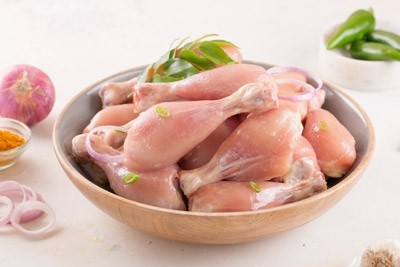 Whole
Regular Price: AED 17.00 AED 34.00 /500g /Kg
Special Price AED 16.00 AED 32.00 /500g /Kg
Country of Orgin : UAE

Drums of heaven literally! Tad heavier than its cousin the lollipop but Mr. Drumstick doesn't mind the weight issues given his large fan base and also better pedigree coming from the leg of the chicken

These naturally reared birds are tender and have extremely tasty meat. Absolute guarantee that no anti-biotic residue remains in the chicken. No growth promoters have been used on the birds and these are processed in absolutely modern hygienic conditions in a HACCP & Halal certified processing centre.
Premium Antibiotic-residue-free Chicken Drumsticks (Skinless)
Skinless (10 to 12 pieces per Kg)

Skinless (10 to 12 pieces per Kg)