×
Login / Register
Please enter your mobile number below
×
Registration
Subscribe to our newsletter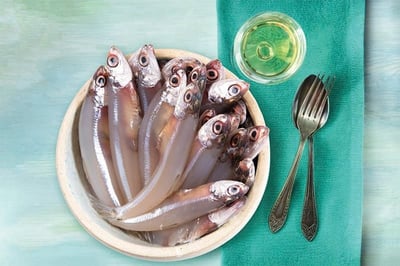 Whole
Get 10% OFF, Code SFD
Regular Price: AED 16.80 AED 33.60
Special Price AED 7.35 AED 14.70 /500g /Kg (Inc. VAT)
A smaller version of the much loved Anchovy, offered whole only. Extremely tasty when fried in a crunchy spicy fashion and is a very sought after delicacy in South India.
Anchovy / الأنشــوجة / Natholi (Small & Crunchy) (180+count/kg)
Whole 480g to 500g pack

Out of stock

Whole cleaned 280g to 300g pack

Whole cleaned 280g to 300g pack

Out of stock
Small pelagic fish with high nutritional value, good fatty acid content and good source of Vitamins.
Please note that unlike the fish market where the cutting happens on the whole fish that you take (and thus appears free), we actually charge you only for the final weight post cutting, so a fish that is cut will be much larger in final eatable weight than a whole fish. Here are the general kinds of cuts available.