×
Login / Register
Please enter your mobile number below
×
Registration
Subscribe to our newsletter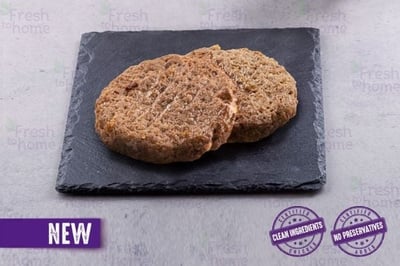 Whole
Regular Price: AED 23.10 AED 23.10
Special Price AED 15.75 AED 15.75 /pack /pack (Inc. VAT)
Cheese Stuffed Angus Burger
The angus meat burger is tender, juicy and succulent. Serve with some sweet potatoes and salad.
INGREDIENTS: Angus meat, Mozzarella cheese, Cheddar cheese, Salt, Black Pepper Powder
ALLERGENS: Dairy
Spice Level - 🌶 Shelf-life: 3 days. Weight per pack: 225g. Servings per pack: 2.
Cooking Instruction:
Pan-Cook * Heat a heavy pan with some ghee or oil, and cook over a medium heat till golden on one side. * Flip it over and cook until the other side is golden. * Ensure the patty is cooked through before serving.
Air-Fry * Preheat your air-fryer to 180C. * Bake for 8 minutes. * Allow to stand for 2-3 minutes before serving.
Grill / BBQ * Grill for 3-4 minutes per side over a moderate heat. * Flip with care to prevent breaking.
Cheese Stuffed Angus Burger /برجر انجوس محشو بالجبنة- Pack of 2
(Pack of 2)

Final price:

15.75

(Inc. VAT)