×
Login / Register
Please enter your mobile number below
×
Registration
Subscribe to our newsletter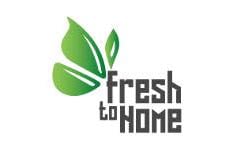 Paneer (Cottage Cheese) Pappadum Sticks - Pack of 250gm
Available in Ajman
Crunchy crispy Paneer (Cottage Cheese) Pappadum Sticks with its creamy paneer centre are scrumptious, ready-in-minutes snack or meal accompaniments. The first step to creating this delectable morsel is when our Chef cuts the tangy white soft cheese into fingers and its rolled in a crispy coating made with papad and seasoned flours. We combine a secret blend of traditional spices like ginger, garlic, masala and fenugreek that is the perfect spicy-herb match for the paneer.
Made by FreshToHome's specialist Chef's, using authentic recipes from all over the world as part of our Ready-To Cook range, our Paneer Papad are not only incredibly delicious and tasty but are also preservative-free and taste just like home-made.
Shelf life: 5 days
Weight: 250gm
Servings Per Pack: 1-2
Spice Level: 🌶 🌶
Ingredients: Fresh Paneer (Cottage Cheese), Papad, Ginger, Garlic, Red Chilli, King Masala, Fenugreek Leaves, Corn flour, Wheat Flour, Salt.
Allergens: Gluten, Dairy.
Cooking Instructions:  Pan-Fry: Heat a heavy pan with your preferred frying oil till hot. Cook the paneer papad over a medium heat till golden, turning frequently to ensure even browning. Ensure the paneer papad is cooked through & crispy before serving.
Shallow-Fry: You can also shallow fry them in a non-stick fry pan. Place a little cooking oil to cover the base of the pan add some cooking Oil. Place the paneer papad and heat till golden, turning frequently.
Serve with tangy mayonnaise or int chutney for dipping, or slice the paneer papad and serve with wilted spinach or sauted okra for a light meal.
Regular Price: AED 15.75 AED 15.75
Special Price AED 12.60 AED 12.60 /pack /pack (Inc. VAT)