×
Login / Register
Please enter your mobile number below
×
Registration
Subscribe to our newsletter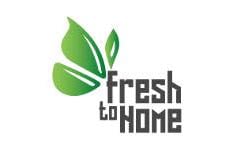 Vegetable Poppers / بوبرز الخضار - Pack of 250g
Available in Ajman
Our Vegetable Poppers are crunchy on the outside, bursting with flavour on the inside, they are made with creamy mashed potato and nourishing green beans and peas, carrots and spices which are shaped and coated in batter.
Loaded with veggie goodness, these are a great option for kids to put in their lunchboxes, snacks or even for dinner. Adults don't need to miss out though, these Veg Poppers are suitable for all ages, and are a great way to increase your veggie intake for the day by having as a grab-'n-go snack or for a savoury breakfast idea.
Made by FreshToHome's specialist Chef's, using authentic recipes from all over the world as part of our Ready-To Cook range, our Veg Poppers are chemical and preservative-free and taste just like home-made.
Shelf life: 5 Days Weight: 250g Servings Per Pack: 1 - 2 portions
Ingredients: Potato, Green Beans, Green Chilli, Green Peas, Carrots, Coriander leaves, Black Pepper, Salt, Kitchen King Masala, Black Salt, Breadcrumbs, Flour.
Allergens: Gluten
Cooking Instructions: On a Pan: Heat some oil in a frying pan till a moderate heat and place the frozen Veg Poppers into the oil. Shallow-fry till brown, spooning the hot oil over the top of the poppers. Turn gently to finish cooking. Remove from oil, drain on kitchen towel and serve when hot.
Cook from frozen in order to retain the shape of the Veg Poppers.
Keep Frozen. Do Not Refreeze.
Regular Price: AED 10.50 AED 10.50
Special Price AED 7.35 AED 7.35 /pack /pack (Inc. VAT)