×
Login / Register
Please enter your mobile number below
×
Registration
Subscribe to our newsletter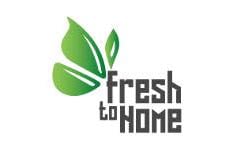 Marinated Barracuda / براكودا / Cheelavu - Steaks (250g Pack)
Available in Dubai
Invited guests for dinner but not sure if your culinary prowess will impress them? FreshToHome's marinated, preservative-free products guarantee great quality and taste, no matter what the occasion.
Our marinated range is not only mouthwatering but will also save you from spending hours in the kitchen & shopping for ingredients.
Cooking Instructions
Heat a heavy pan with little ghee or oil, and cook the marinated fish over a medium heat till golden on one side. Flip it over and cook until the other side is golden. Ensure the fish is cooked well before serving. You can also bake or grill for a heathier option.
Ingredients:
Fresh Barracuda , Kashmiri Chilly Powder, Ginger & Garlic Paste, Shallots, Coconut Oil, Red Chilly Powder, Salt, Vinegar, Garlic, Turmeric Powder, Fennel Seeds, Curry Leaf.
Regular Price: AED 15.75 AED 15.75
Special Price AED 9.45 AED 9.45 /pack /pack (Inc. VAT)