×
Login / Register
Please enter your mobile number below
×
Registration
Subscribe to our newsletter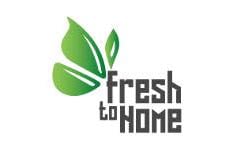 Aloo Tikki (Potato Patty) / ألو تيكي (كيك بطاطس) - Pack of 5 Pieces
Available in Dubai
"Fragrant spicy discs of deliciousness, these vegan, gluten- and dairy-free Aloo Tikki are handmade made from freshly boiled and fluffy potatoes, coriander leaves and plenty of warming masala spices. With a perfectly crispy crunchy and golden outer, the perfect Aloo Tikki inside is a soft billowy mouthful of fragrant mash potato.
Made by FreshToHome's specialist Chef's, using authentic recipes from all over the world as part of our Ready-To Cook range, our Aloo Tikki are preservative-free and taste just like home-made.
Serve them straight off the stove for a quick snack, or dress them up with some condiments that take these classic Indian Street Food Snacks from good to sublime.
Stack a pile of the Aloo Tikki and top with sweet curd, mint chutney, tamarind chutney and a crunch of crispy papdi crumbles. In a large platter, make salad of cooked, drained chickpeas, pomegranate seeds and finely chopped red onion. Mix in some sweet chutney. Top with piping hot Aloo Tikki, some chopped coriander and sliced green onions.
Aloo Tikki are always best when shared with family or friends.
Shelf life: 5 days
Weight: 250gm
Servings Per Pack: 1-2
Spice Level: Medium Spice
Ingredients: Potato, Green Chilli, Fresh Coriander, Cumin Powder, Masala Powder, Black Salt, Onion, Cornflour, Garam Masala, Chilli Flakes, Salt.
Allergens: None.
Cooking Instructions:  Defrost the Aloo Tikki and reshape if needed.
Deep-Fry: Heat up some oil in a deep pan. Once hot, using a spoon, slide the Aloo Tikki into the hot oil. Fry till golden, turning over once. Drain and serve immediately.
Pan-Fry: You can also shallow in a nonstick fry pan. Heat up a pan with 2 tbsp of oil. Place the Aloo Tikki in the hot oil and shallow fry until golden, turning once to brown all over.
Regular Price: AED 10.50 AED 10.50
Special Price AED 8.40 AED 8.40 /pack /pack (Inc. VAT)