×
OTP Login
Please enter your registered mobile number below
×
Registration
Subscribe to our newsletter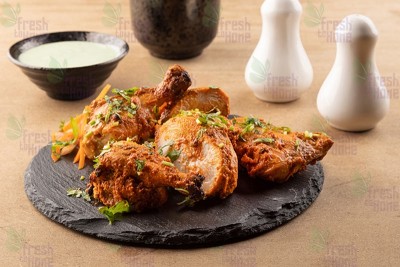 Whole
Regular Price: AED 17.00 AED 17.00 /pack /pack
Special Price AED 16.00 AED 16.00 /pack /pack
Our Tandoori Chicken Tikka is made from our superb quality chicken which is cooked in a chilli and garlic marinade to create a delicious tikka dish. Grilled in a Tandoori Oven, this dish has a smoky aroma which enhances the flavour of the meat, and is finished off with Mustard Oil. This dish is often regarded as the best of Indian tikkas. It's signature red colour comes from 2 types of red chili powder, and is a sure fire way to get your taste buds awake!

Serves 2
Pack size 260g
Store at 4°C
Return a damaged Pack
Use within 3 days.

Cooking Instructions
The Tandoori Chicken Tikka comes par-cooked, and must be heated right through till hot before consuming.

Oven and Grill:
Place on a rack and into a hot oven or a medium grill. Turn frequently till heated through, around 5 minutes.

Microwave:
Place on a covered dish and heat on high for 2 minutes.

Airfryer:
Place in a hot air fryer at 180℃ for 2 minutes. Product must be consumed after heating. Do not reheat again.

INGREDIENTS
Chicken, Mustard Oil, Curd, Ginger, Garlic, Lemon Juice, Kasoori Methi, Chilli Powder, King Masala [Coriander, Red Chilli, Cumin Powder, Turmeric, Salt, Musk Melon, Fenugreek Leaves, Dried Garlic, Dried Ginger, Black Pepper, Dried Onion, Cardamom, Cassia, Fennel, Cloves, Nutmeg, Mace, Cardamom Green, Asafoetida.] Garam Masala, Salt, Cumin powder

ALLERGENS:
MUSTARD, DAIRY

NUTRITIONAL INFORMATION PER 100G PER PRODUCT:
Energy: 240kcal, Total Carbohydrates: 1g, Fiber 0g, Sugars 0g, Added Sugars 0g, Total Fat 16g, Trans Fats 0g, Saturated Fat 3g, Protein 24g, Sodium 230mg.
Chicken Tandoori (bone-in)