×
Login / Register
Please enter your mobile number below
×
Registration
Subscribe to our newsletter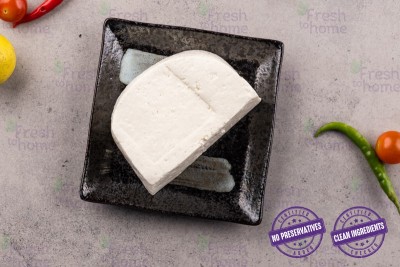 Regular Price: AED 14.70 AED 14.70
Special Price AED 11.55 AED 11.55 /pack /pack (Inc. VAT)
Our Paneer is a firm, fresh cheese handmade by curdling milk with vinegar by our specialist chefs here in the UAE

Paneer is a versatile, tasty, vegetarian protein option and is an excellent choice for due to its ability to hold its shape during cooking, without crumbling. It has a great mouthfeel texture upon biting. Enjoy this delicious cheese grilled and steeped in flavourful gravies or curry, stuffed in flatbreads, or grilled on a kebab.

Store at 4°C. Return a damaged pack. Use within 3 days.

Ingredients: Fresh Cow's Milk, Vinegar, Full Cream Milk Powder (Whole Cow's Milk, Emulsifier Soya Lecithin, Vitamins and Minerals).

Allergens: Dairy and Soya

Nutritional Information per 100g: Energy 550kcal, Total Carbohydrates 31g, Fibre 0g, Total Sugars 31g, Protein 31g, Total Fat 33g, Saturated Fat 21g, Trans Fats 2g*,

*Transfats occur naturally in dairy products like Paneer. "
Fresh Cottage Cheese (Paneer)
Pack Of 250g

Final price:

11.55

(Inc. VAT)