×
Login / Register
Please enter your mobile number below
×
Registration
Subscribe to our newsletter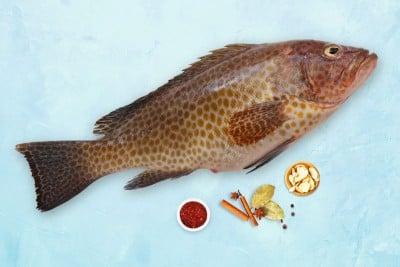 Whole
Regular Price: AED 30.98 AED 61.95
Special Price AED 19.95 AED 39.90 /500g /Kg (Inc. VAT)
The Orange-spotted grouper (Suman), fondly called "Hammour" is the true bearer to the name as evidenced by the local fishermen. Best as grilled, fried, curried or barbecued. It is definitely UAE's favorite fish.
It has significant health benefits due to a sufficient amount of good proteins, minimal amount of saturated fats and no sugar.
Hamour / هامور / Reef Cod (Large) (5kg+)
Curry Cut (480g to 500g Pack) (may include head pieces)

Curry Cut (480g to 500g Pack) (may include head pieces)

Out of stock

Fillet (300g to 320g Pack)

Fillet (300g to 320g Pack)

Gross Weight: 690g | Net Weight: 300g to 320g | Boneless

Out of stock

Fillet (480g to 500g Pack)

Fillet (480g to 500g Pack)

Out of stock
An export quality marine fish which is well known for its taste and availability through out the year. Ideal for fry and curry recipes.

Please note that unlike the fish market where the cutting happens on the whole fish that you take (and thus appears free), we actually charge you only for the final weight post cutting, so a fish that is cut will be much larger in final eatable weight than a whole fish. Here are the general kinds of cuts available.
No Special Options or Whole: Fresh fish washed and packed as a whole.
Fillet : Meat from the lateral sides of the fish is chopped and packed as boneless pieces. You will receive two pieces of boneless meat from each fish.
Curry cut: Meat is chopped into small pieces which are ready to cook, either for preparing curry or to be fried
Whole Cleaned: Scales removed or Skin-out as appropriate. Fish is cut with part of the head intact, meat is cleaned, but not cut in to smaller pieces. Pan-ready and readied to be fried as a whole in case of medium size fish
Steaks: Cleaned whole fish is cut into good size pieces (steaks) so that all you have to do is just put it in the pan and...
Gutted: Intestinal part is removed from the whole fish in order to reduce the bacterial load and to increase the storage time. You will receive whole fish without the intestinal parts.