×
Login / Register
Please enter your mobile number below
×
Registration
Subscribe to our newsletter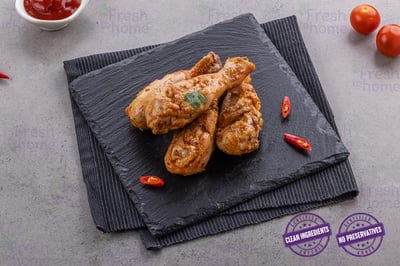 Whole
Regular Price: AED 19.95 AED 19.95
Special Price AED 16.80 AED 16.80 /pack /pack (Inc. VAT)
These fresh drumsticks are covered with our special version of the traditional Peri Peri sauce. You can pair with them grilled veggies or sweet potato fries to enjoy a divine meal within the comfort of your home.
INGREDIENTS: Peri Peri Powder, Garlic, Sugar, Maida, Cornflour, Oil and Water
ALLERGENS: GLUTEN
SHELF-LIFE:3 days WEIGHT PER PACK:350 gm Spice Level - 🌶 🌶
Cooking Instruction:
Unpack the chicken drumsticks in a bowl and scrap the remaining marinade into it. Mix Well.
On a pan: Heat a heavy pan with oil and cook chicken drumsticks over a medium heat till golden. Ensure the chicken is cooked through and crispy before serving.
In an oven: Heat up an oven and apply some oil on an oven-proof tray. Arrange the wings on the tray and roast in the oven for 15-20 minutes at 180 ° C.
Peri Peri Drumsticks /أوراك دجاج بنكهة بيري بيري(350g Pack)
Pack of 350g

Out of stock