×
Login / Register
Please enter your mobile number below
×
Registration
Subscribe to our newsletter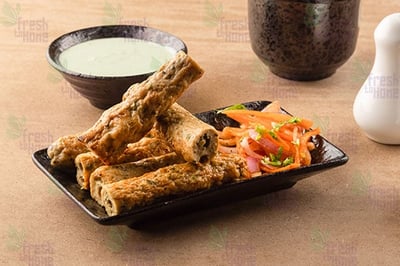 Whole
Regular Price: AED 38.85 AED 38.85
Special Price AED 15.75 AED 15.75 /pack /pack (Inc. VAT)
Our Punjabi Chicken Seekh Kebab is made by our specialist chefs with our finest quality tender chicken, which is spiced and seasoned with our secret recipe. Carefully formed on kebabs and cooked over a smokey grill to give that authentic Indian taste, they are. Our Kebabs are par-cooked, and are ready in minutes for you to enjoy. Simply finish cooking, and you will have a mouth-watering dish ready to serve as a main meal, snack or light lunch. Perfect for the whole family to enjoy.

Serves 2
Pack size 230g
Store at 4°C
Return a damaged Pack
Use within 3 days.

Cooking Instructions
The Gourmet Chicken Seekh Kebab is par-cooked and must be heated right through till hot, before consuming.

Oven and Grill:
Place on a rack and into a hot oven or a medium grill. Turn frequently till heated through, around 5 minutes.

Microwave:
Place on a covered dish and heat on high for 2 minutes.

Airfryer:
Place in a hot airfryer at 180℃ for 2 minutes. Product must be consumed after heating. Do not reheat again.

INGREDIENTS
Chicken, Butter (Milk), Ginger, Garlic, Green chilli, Kasuri Methi, King Masala [Ground Coriander, Ground Chilli, Iodised Salt, Ground Fenugreek, Ground Curry Leaves, Ground Turmeric, Tamarind Powder, Ground Cassia, Asafoetida Powder, Spice Extract], Meat Masala [Ground Chilli, Ground Coriander, Ground Cumin, Ground Fennel, Ground Turmeric, Ground Black Pepper, Garlic Powder, Ground Bay Leaves, Iodised Salt, Ground Fenugreek, Ground Clove, Ground Star Anise, Ground Mint, Ground Cinnamon, Ginger Powder, Ground Asafoetida, Ground Black Cardamom], Garam Masala, Black Salt & Salt.
Allergens:
DAIRY
NUTRITIONAL INFORMATION
Per 100g of product: Energy: 160kcal, Total Carbohydrates 1g, Fiber 1g, Sugars 0g, Added Sugars 0g, Total Fat: 8g Trans fats 0g, Saturated Fat 4.5g, Protein 21g, Sodium 380mg.
Punjabi Chicken Seekh Kebab