×
Login / Register
Please enter your mobile number below
×
Registration
Subscribe to our newsletter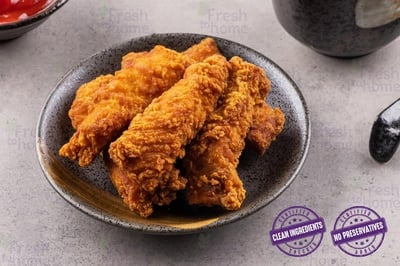 Whole
Regular Price: AED 15.75 AED 15.75
Special Price AED 12.60 AED 12.60 /pack /pack (Inc. VAT)
Tender, antibiotic-residue free Zinger Chicken Strips.

Who doesn't enjoy some crispy zingy chicken? At FreshToHome, we've created our strips with only the very basic ingredients, ones you would easily find in your own pantry cupboard at home. Ready to cook, you don't have to worry about making them yourself, but they will taste just as good!

Panfry or deepfry these at home till lightly golden brown. Drain on kitchen paper towel before serving.

Ingredients:
Flour, chicken breast, black pepper, white pepper, frying oil, breading, raising agent, egg, salt.
Allergens:
Wheat (Gluten) and Egg.
Zinger Chicken Strips / شرائح دجاج
Pack of 6 Strips

Out of stock